With an L&I claim or workers' comp claim in Washington State, it can be very difficult to understand treatment payments, policies, and procedures. This is a big problem for L&I medical providers in the provider network (or MPN) and for people that have a work injury claim. For doctors, it's challenging to know which billing codes to use. On top, it's hard to tell the rates that the Department of Labor and Industries (L&I) pays for services. Finally, it's unclear if and what services require pre-authorization.
L&I resources for medical questions
L&I created resources to address the challenges mentioned above. Unfortunately, many medical providers as well as work injury claimants don't know that these resources exist or where to find them. Yet, questions about medical billing and fees arise in every workers' compensation claim.
The L&I treatment policies are available in the Medical Aid Rules in chapter 296-20 of the Washington Administrative Code, or WAC in short. Reading or referencing the WAC can be frustrating and time consuming. After all, it's code that people use mostly for legal purposes. Furthermore, not everyone is familiar with the administrative code writing style and language.
The L&I fee schedule reference
Fortunately, L&I has some useful and user-friendly tools on its website. For example, L&I publishes its annual Payment Policies and Fee Schedules, by year. One of the resources within these publications is a Quick Reference Card. Interestingly, this card contains the most common and frequently used codes. However, for services that are not available in the Quick Reference Card, there are several ways to find the fee schedule and payment policies.
Billing code lookup in an L&I claim
If you know a billing code, then L&I has a Fee Schedule Lookup tool that you can use. Here, simply enter the code and a box appears outlining coverage, fees, and authorization requirements. For example, for billing code 10004, we get the following information from the L&I website.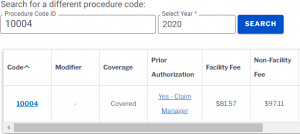 Even better, in cases where you must obtain pre-authorization, you can click the link that writes "Yes – Claim Manager". After that, it redirects you to the pre-authorization form that you'll have to use. Finally, it's worth noting that many providers find it surprising that many treatments and services do not require pre-authorization.